Bubble Bonanza: A Soap Bubble Spectacular!
Brilliant Outdoor Bubbling By A Bald Guy!
Need a Proven Way to Amaze and Inspire All Ages?
Simply Want to Raise Spirits?
Humongous Bubbles, Long Bubble Tubes, Bubble Clouds, Countless Bubbles and More. Performed to Jazzy Music.
Intended for outdoor locations where viewers can remain at recommended, safe social distances.
Chasing and Popping the Bubbles is not required to enjoy them.
Watching creates the same "oohs" and "ahhs" as a fireworks display.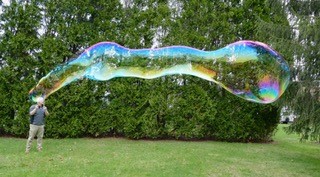 Remember: When protocols allow, Casey's ever-popular, indoor stage show "BubbleMania!" is ready to amaze and amuse!
Use his outdoor "Bubble Bonanza" to thrill all ages...
School Spirit Day/Field Day/Fun Day activity
Recess entertainment or activity
Outdoor physical education classes and camps * School or community car parades...with other elements to engage and excite children: Costumed teachers/staff? Inflatable Decorations? Fun music?
Libraries, Park & Recs, Scouts, Celebrations
When appropriate, additional elements of humorous audience participation while respecting physical distancing guidelines:
Super Soaker competition to pop the most bubbles in a given time frame.
Hula Hoops held up as targets for the bubbles to fly through.
The "Matrix" Game: Standing 20-30 feet downwind, participants avoid bubbles by bending and maneuvering the body while keeping one foot on the ground at all times.
Calling out shapes in the bubble formations. Like with clouds. (see below for "dolphin bubble" image... it's real)
Note: Perfect weather conditions are not necessary. Overcast skies, mist, fog, moderate wind and even a light rain can be great for bubbling. High humidity is a big plus! However, heavy rains and strong, consistent winds (above 20/25mph) would be detrimental to a successful bubbling presentation.
Presentation length can range from 20 to 60 minutes.
Fees are based on duration and number of presentations and include all travel expenses.
To Schedule an Event:
Please Contact Todd Little, Booking Manager, at bubblemaniabooking@gmail.com or call 860.484.3533
A Fantastic Display of Color, Light, Air Movement, Jazzy Tunes and Mesmerizing Ephemeral Creations.
The "Ooohs" and "Ahhhhs" of a Fireworks Display (without all the smoke)
"Ephemeral Masterpieces Out of Thin Soap" - The Boston Globe

"A Genius in the Human Art of Creating Happiness" - Fan Letter

"Casey Carle Covers the World of Bubbles with Real Panache" - News4, NYC

To Schedule an Event: Please Contact Todd Little, Booking Manager, at bubblemaniabooking@gmail.com or call 860.484.3533




| Home | Who is he? | Entertainment | Science Programs | Corporate & Adult Events | Consulting |
| Appearances | FAQs & Formulas | News | Booking Info | Photos | Video | Credits |
| Send Email |