Contact Info:
Casey Carle
860-873-9599

DISCOVERY CHANNEL INVESTIGATES BUBBLE SCIENCE WITH CASEY CARLE
Connecticut's Own Professional Bubble Expert

In March 2009 Casey was contacted by researchers from Discovery Channel Canada to coordinate a segment for their popular program "Daily Planet" on the scientific aspects of bubbles, focusing on issues that would address mysteries about bubbling for the lay person. Topics included.. "Why are bubbles round no matter what shape device is used for making them?", "Is it possible to make a bubble that is not spherical?", "What is the physics behind how soap bubbles form?" "Are there unusual things you can do with a bubble that might surprise our viewers?" "How are bubbles used to advance our knowledge of the world, the universe?"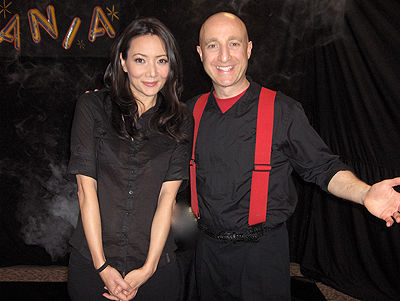 Intriguing questions that required a veteran bubble manipulator with a flare for the theatrical to make it visually engaging for their viewers. This was no job for a ghostbuster or mythbuster or even Buster Brown. This was a job for a bubble buster! (Well, in this case a NON-buster of bubbles.. but you get the drift).
Researchers and producers from "Daily Planet" worked with Casey to set up a taping at the Public Library in Suffern, NY (Thank You Suffern Library!) to combine his tour with that of their NY City based co-host, Ziya Tong. Ms. Tong also served as host, writer & director for the Canadian science series The Leading Edge, and recently finished shooting for NOVA ScienceNOW, which will air later in 2009.
After working together Ms. Tong had nothing but praise for Casey's work saying "From full human-sized bubbles to bubbles on fire, Casey creates a magical world of bubbles and does a fantastic job of explaining the science behind it!"
When asked how the taping went Carle said, "Working with Ziya was a blast! Her enthusiasm and curiosity were infectious. It felt more like play than work, which I expect will be clear when the segment hits the airwaves."
CLick Here to Watch Casey Carle's Video Segment!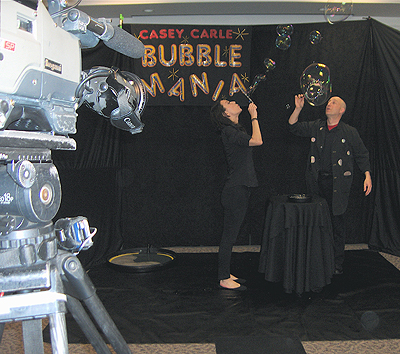 Daily Planet is Discovery Channel Canada's flagship show. It was the first nightly prime-time science magazine show in the world, and has grown in the last thirteen years to become a powerhouse of science and technology broadcasting. Over the past number of years it has won a multitude of international awards from around the globe and is not only broadcast in Canada, but also to other markets throughout the world. Discovery Channel and Daily Planet bring the world of science and technology to viewers in new and innovative ways.
What distinguishes Daily Planet is the smart factual content and water-cooler take-away that forms the narrative for the entire hour. With combined plays on Discovery Channel and Canada's largest network - the CTV network, Daily Planet reaches an impressive 4.3 million viewers each week in Canada alone.
| Home | Who is he? | Entertainment | Science Programs | Corporate & Adult Events | Consulting |
| Appearances | FAQs & Formulas | News | Booking Info | Photos | Video | Credits |
| Send Email |