March 18, 2015

Casey Carle captures Rihanna, Steve Martin, Jim Parsons... in bubbles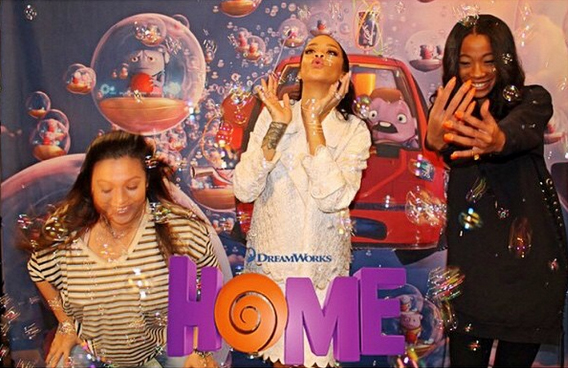 Twentieth Century Fox relied upon Casey Carle of Bubblemania! fame to assist in their press junket for the animated children's film entitled "HOME" at the Mandarin Oriental Hotel in New York City.
The story of the movie (co-produced by DreamWorks) incorporates lots of specialized alien soap bubbles, including ones that allow aliens to ride in them and an earth car that flies because of them.
Casey was hired to create the kind of exciting experience that folks in the media would want to share via all kinds of social media. In this case: the opportunity to be encased inside a giant soap bubble!
The voice over talent for the film includes Steve Martin. Rihanna and Jim Parsons. Each of whom was encapsulated inside one of Casey's giant creations. Rihanna had so much fun playing with Casey's bubble machine and fog-filled bubbles that on the second day of the junket she pointed Casey out in the room full of all the big names on the film and said quite clearly "I thought about you all night!"
Needless to say, an exciting day for Casey and fans alike!
"You were so incredible this weekend and such an amazing addition to our Press Junket!!! It was - honestly - above and beyond - it was so much fun and 20th Century Fox is very grateful for your hard work."
-Maggie Landy, 20th Century Fox
In addition to his well traveled "Bubblemania!' act that entertains and educates children and grownups alike, Casey is often called upon as an expert consultant "Bubbleologist" for commercials, movies, television and stage. More info about Casey Carle's consulting servics can be found at http://www.Casey-Carle.com
| Home | Who is he? | Entertainment | Science Programs | Corporate & Adult Events | Consulting |
| Appearances | FAQs & Formulas | News | Booking Info | Photos | Video | Credits |
| Send Email |